July 2018, Almelo, Niederlande:
The 3rd generation of Empyrean -
Malvern Panalytical's multipurpose X-ray diffraction platform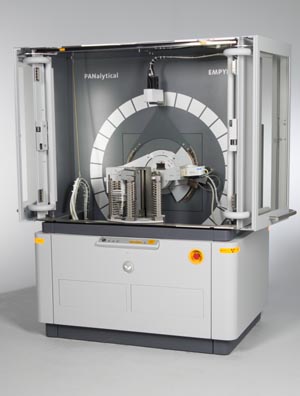 The Empyrean with new multipurpose X-ray diffraction platform
This year's European Powder Diffraction Conference (EPDIC16) is the stage for Malvern Panalytical's new Empyrean platform – an instrument that redefines the concept of multipurpose X-ray diffraction. Users who want to maximize the utilization of their diffractometer or minimize time spent for training or wasted on faulty measurements will profit from this third generation of Malvern Panalytical's renowned system.
The multipurpose platform
The new Empyrean is the first fully automated multipurpose X-ray diffractometer, allowing a wide variety of measurements without manual intervention. The newly developed MultiCore Optics, featuring iCore and dCore, are taking over and ensure easy automatic switching between configurations.
Specific optics
Expert users, however, will still be able to perform specialized advanced measurements by employing specific optics, which can be fine-tuned to obtain the best possible data.
Malvern Panalytical's proprietary renowned pre-aligned fast interchangeable X-ray modules (PreFIX) allow an easy exchange of those optics without the need for re-alignment. As an additional benefit, all optics are now automatically recognized by the system, simplifying the exchange and eliminating errors due to wrong reporting of measurement conditions.
Visit http://www.malvernpanalytical.com/Empyrean for more information