8.6.2023


Versatile 7-Angle MALS Detector
If you are looking to determine absolute molecular weights of polysaccharides, proteins, and peptides or their aggregates by HPLC or uHPLC quickly and accurately, then look no further. The Bi-MwA is also a powerful tool that can dramatically increase the capability of any GPC/SEC system enabling the precise and accurate determination of the molecular weights of polymers and nanomaterials in solution.
---
15.5.2023


Flow Measurement of High Viscosity Liquids
High viscosity liquids, such as fuels, thick oils, bitumen, resin and tar, require devices that are precision engineered to provide highly accurate flow measurement. The teeth in an oval gear meter are used to drive the gear and seal the central path, with the differential force being developed by the shape of the ovals rather than the gear teeth on the lobe
---
14,5,2023


Continuous quality assessment of HPLC pump performance
The Liquid Chromatography Flowmeter (LCF) from TESTA Analytical sets a new standard as a real-time monitoring device for continuously measuring the performance of pumps serving HPLC and uHPLC systems
---
2.5.2023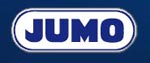 Efficient solutions for hygienic applications
At the "Lounges" trade fair in Karlsruhe, Germany, JUMO will be exhibiting (April 18 to 20, 2023 , JUMO will present a wide range of products and solutions
---
16.4.2023


3-D Printing Expedites Titan Enterprises' R&D in Flow Meter Technology
"3D printing technology is fundamentally changing the way we design, prototype and test flowmeter devices within our R&D, particularly when developing specialist designs for OEM applications," says Neil Hannay, Senior R&D Engineer with Titan Enterprises
---
15.4.2023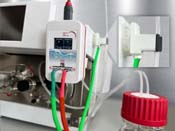 Ensuring the accuracy of reagent dispensing pumps
The intuitive PC App
allows easy configuration of the device enabling users to set the required level of
sensitivity for monitoring for the presence of undissolved gas bubbles that can affect the accuracy of any reagent dispensing pump
---
12.4.2023

20 years of safe infrared temperature measurement
Two decades of innovation in infrared: Since 2003, Berlin-based Optris GmbH has been taking care of accurate, reliable and non-contact temperature meas-urement in many different industries and research .In the meantime, customers from all over the world rely on the infrared thermometers and thermal imaging cameras.
---
31.3.2023

Sartorius to acquire Polyplus
The life science group Sartorius, through its French listed subgroup Sartorius Stedim Biotech, has signed an agreement to acquire Polyplus for approximately 2.4 billion euros from private investors including ARCHIMED and WP GG Holdings IV B.V., an affiliate of Warburg Pincus
Certified with the
General Purpose Approval

.
The continuous online
measurement of pollutants in the air
with the GO-Mini-ATC enables the detection limit of 1 ppb for hydrocarbon measurement

read more





Handheld Power





To ensure that analysis results are available exactly where they are needed without detours, analyticon instruments has been selling innovative spectrometers for mobile on-site measurements and in-process chemical analyses for
20 years.





Process- & Environmental

Air, water, soil.  HORIBA contributes to global environmental safety with measurement technology that complies with environmental regulations throughout the world.






,Fast & Flexible Nanoparticle Size Analyser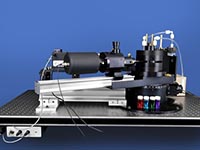 Testa Analytical Solutions e.K is now offering optimized versions of its proprietary Differential Refractive Index (DRI) Detector under OEM contract to enhance the performance of both HPLC and GPC/SEC systems.


As a third-generation family-owned company, we are financially independent and socially committed. We therefore think and act for the long term – in generations, not financial years



5.6.2023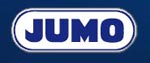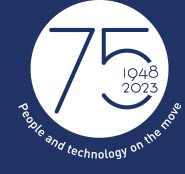 Jumo on the move
Jumo, a leading provider of industrial sensor and automation solutions is celebrating its anniversary. It is doing together 25 subsidiaries, more than 60 agencies, and over 2.500 employees around the world.
---
31.5.2023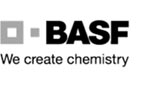 Consistently sustainable: Updated method published for entire BASF product portfolio
Sustainability assessment method TripleS (Sustainable Solution
Steering) comprehensively updated
---
28.5.2023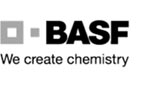 Rethinking cooling the sustainable way
GLYSANTIN® engine coolants available as biomass balanced solutions in European aftermarket Dedicated solutions to support technologies of future mobility
---
12.5.2023


Thor: RWE secures all main components for its
1,000-megawatt offshore wind farm in Denmark
Agreements signed for turbines, foundations, export and inter-array cables as well as for the onshore and the offshore substation - Thor to supply green electricity to more than one million Danish households
---
20.4.2023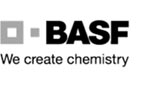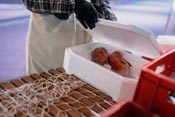 BASF at interpack 2023: Shaping the future of the packaging
industry with sustainable solutions
Trade fair for packaging from May 4 to 10, 2023 in Düsseldorf, Germany - BASF continues "Plastics Journey" for a more sustainable plastics industry
---
8.4.2023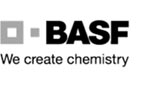 Y&H named as agent for BASF Temperature Sensing solutions in Türkiye
Agreement covers BASF Temperature Sensing solutions for the glass
industry in Türkiye the like as optical pyrometers, thermocouples and calibration services, plus recycling spent thermocouples
---
24.3.2023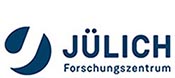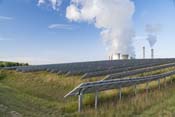 CO2 Electrolysis as an Alternative to Coal
Coal in the Rhenish region is not only an important fuel for power generation. It is also used by the chemical industry to produce important basic chemicals
---
23.3.2023


Kaskas i: RWE offshore wind farm commences regular operation
Today, the RWE wind farm Kaskasi, located around 35 kilometres north of the island of
Heligoland, officially commenced regular operation in the presence of Robert Habeck, German Federal Minister for Economic Affairs and Climate Action. With an installed capacity of 342 megawatts (MW), Kaskasi can supply the equivalent of over 400,000 households with green electricity.
---
20.3.2023


Optical atomic clocks with record precision: What they can mean for climate science, geology, and driverless cars
A new generation of optical atomic clocks is now set to increase
their precision by a factor of up to 100,000 by measuring higher frequencies in
the near IR and visible light range. Fraunhofer researchers are directly involved
in the project and working on miniaturized and robust laser systems for
ultracold atoms – the key component for viable and industry-ready optical
6.6.2023

International Conference for Dispersion Analysis & Materials Testing 2024 – Call for Papers
In June 2024, LUM GmbH hosts the next, now traditional International Conference for Dispersion Analysis & Materials Testing (ICDAMT 2024).
Due to popular demand the conference will again take place at the ABACUS Tierpark Hotel in Berlin, Germany, from June 10 – 11, 2024. Additional practical shortcourses will take place at the LUM headquarters in Berlin-Adlershof on June 12. The shortcourses are considered a further training measure for employees of certified companies (DIN ISO 9001 and other relevant).
---
30.5.2023


Automated optimisation of heterogeneous catalysis reactions
The use of solid supported reagents, catalysts and scavengers in flow reactor systems
offers significant benefits over conventional batch heterogeneous catalysis techniques. Their use often avoids the need for downstream product purification and leads to enhanced reaction rates and higher overall efficiency due to the large excess of catalyst
---
29.5.2023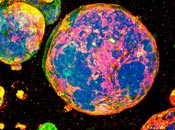 Innovative, fully defined hydrogel sets new benchmark in 3D Cell Culture..
MatriMix overcomes the limitations of current 3D substrates, enabling cutting-edge applications such as organoid formation using adult patient-derived cells and iPSC culture. MatriMix also demonstrates exceptional performance in in vivo animal PDX models
---
26.5.2023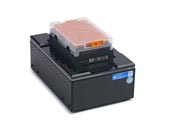 Productive, error-free 2D tube rack reading
Drawing upon our long experience of designing high performance 2D barcode readers – the Mirage employs a unique arrangement of LED lights and "light shelves" to reduce internal reflection and unwanted illumination effects. This patented optical design enables the reader to decode badly printed tubes more easily as well as to discern codes that are covered in a layer of ice
---
25.5.2023

High titer CAR lentivirus
AMSBIO has introduced a new range of high-titer Chimeric Antigen Receptor (CAR) lentivirus that provide high transduction efficiency with long-term, stable expression in resting and actively dividing cells)
---
24.5.2023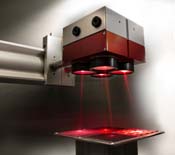 Compact laser scanner with 90 percent less construction volume
Galvanometer scanners have been in use in laser material processing for
decades. However, a team from the Fraunhofer Institute for Laser Technology
ILT has now developed a new, particularly compact scanner module for
applications in 3D printing, micromachining or medical technology
---
24.5.2023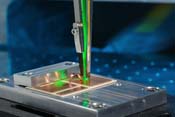 E-cars: Particle accelerator proves that manufacturing is more sustainable with the green laser
Collaboration between TRUMPF, Fraunhofer ILT and DESY provides the most detailed of insights into laser welding processes to date thanks to the particle accelerator // Fraunhofer expert Marc Hummel: "We have now been able to clearly prove for the first time that raw materials can be saved in the welding high-performance electronics by using lasers with green wavelength."
---
18.5.2023


Inline degasser for high flow rate applications
ith this impressive device, you can efficiently remove dissolved gases and even bubbles from organic solvents or aggressive aqueous solutions at liquid flow rates of up to 150 mL / minute. The DEGASI Prep+ is offered as a standalone unit in configurations operating from 1 to 4 channels of high throughput degassing
.
---
17.5.2023


The World's Smallest Impedance Spectroscopy System in the Form of a Pill Finds Weak Spots in Machines and People
The larger an industrial machine, the more difficult it is to troubleshoot malfunctions by
detecting unwanted oil pressure deviations or even line leaks from the outside. It often takes a long time for specialist staff to find what seems to be the equivalent of a needle in a haystack. This can lead to production losses and high costs. The situation is similar with the identification of disease causes in humans. If a patient complains about abdominal pain, there is usually no way around a complex gastroscopy or colonoscopy. Electrochemical impedance spectroscopy can be very helpful in such cases.