27.11.2023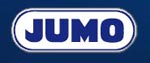 Efficient complete systems for the beverage industry
Regardless of whether you need the right temperature for brewing beer, the optimum pressure for filling lemonade, or the perfect moisture for monitoring wine cellars we are sure to have the right solutions for you
---
20.11.2023


Flow meter with increased benefits
The accessories of the S 6 flowmeter series are now enhanced by a retrofittable cover. This cover can also be easily retrofitted to instruments that have already been installed. The transparent and ventilated cover protects the front and both sides of the flow meters and offers reliable protection against unintentional adjustment of the measuring point for devices equipped with a ring initiator
---
17.11.2023


Turning data into decisions: Ferroplan gets future-ready by using Gasmet Insight
Finnish company Ferroplan, the developer of the FerroPower mobile power station, was actively looking to create a solution that would let them remotely monitor their facility's emission monitoring data. So, when Gasmet launched the Insight platform around the same time, it truly felt like finding a missing piece of the puzzle.
---
16.11.2023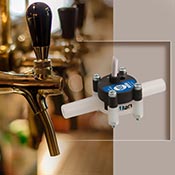 Titan Enterprises' NSF-Approved Flow Meter Best Value for Beverage Industry
Titan's Beverage flowmeters are widely used to monitor the accurate delivery of beer, cider and spirits in distilleries, to automated batching and dispense systems, bar taps in mobile bars and your local pub.
---
15.11.2023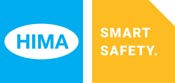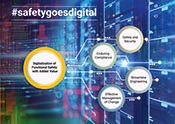 HIMA introduces new SILworX version 14.0.0
The development of new Industry 4.0 technologies and functions is much faster than the further development of classic process automation equipment. Adding new functions to safety devices requires particular care. The engineering, diagnostics and test tools in the new version of SILworX® will become the hub for the digitalization of data from safety devices.
---
14.11.2023


Compliance software and IQ/OQ/PQ services for particle sizing
Determination of particle size and zeta potential
are widely used measurement techniques for quality control of materials in sectors such as the pharmaceutical industry which are tightly regulated and highly audited. In such environments
---
9.11.2023

Successful Innovation Partnership with Sartorius

Development of a flow cell for process control in the production of biopharmaceuticals - The use of spectroscopic analysis methods for monitoring critical process steps is becoming increasingly important in a growing number of applications in the manufacturing industry. In highly regulated areas of application, such as pharmaceuticals, the required standards for optical measurement components in terms of quality, consideration of GMP guidelines and reproducibility can therefore often not be met with conventional manufacturing processes. This is also true for the production of biopharmaceutical active ingredients
---
8.11.2023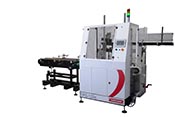 Festo pneumatics expertise helps Cerulean achieve 90% energy efficiency improvements
A new tube packing machine - Soaring energy prices and the need to continuously drive down costs are key considerations for manufacturers. So, when packaging machinery specialist Cerulean decided to redesign its highly successful FPS-1 tube packer, high energy efficiency and reduced total cost of ownership (TCO) became key design requirements.
Certified with the
General Purpose Approval

.
The continuous online
measurement of pollutants in the air
with the GO-Mini-ATC enables the detection limit of 1 ppb for hydrocarbon measurement

read more





Handheld Power





To ensure that analysis results are available exactly where they are needed without detours, analyticon instruments has been selling innovative spectrometers for mobile on-site measurements and in-process chemical analyses for
20 years.





Process- & Environmental

Air, water, soil.  HORIBA contributes to global environmental safety with measurement technology that complies with environmental regulations throughout the world.






,Fast & Flexible Nanoparticle Size Analyser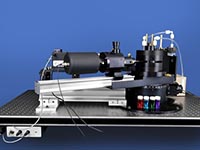 Testa Analytical Solutions e.K is now offering optimized versions of its proprietary Differential Refractive Index (DRI) Detector under OEM contract to enhance the performance of both HPLC and GPC/SEC systems.


As a third-generation family-owned company, we are financially independent and socially committed. We therefore think and act for the long term – in generations, not financial years



23.11.2023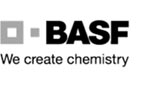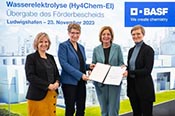 CO2-free hydrogen: BASF receives funding approval for 54-megawatt water electrolysis plant
With the approval of funding from the German Federal Ministry for Economic Affairs and Climate Action and the State of Rhineland-Palatinate, BASF has come a major step closer in building a proton exchange membrane electrolyzer. In cooperation with Siemens Energy, work on the water electrolysis at the Ludwigshafen site – the so-called Hy4Chem-EI project – is now entering the next phase of construction
---
17.11.2023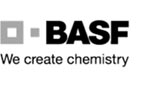 BASF's Process Catalysts research team receives 2023 Edison Patent Award for novel adsorbentl
A team of BASF catalysis researchers were recognized by the Research & Development Council of New Jersey, USA, with the prestigious 2023 Edison Patent Award. They received the award in the environmental category for their patent addressing adsorbents and methods of making and using adsorbents.
---
12.11.2023
ZEISS Women Award 2023 – Inspiring Women in Digital and IT
First place went to Jana Zeller who recently completed her bachelor's degree in computer science at the Karlsruhe Institute of Technology. During her studies, she focused on various aspects of artificial intelligence. In her bachelor's thesis, she developed a method that requires less data to predict molecular properties. This progress could facilitate an acceleration in the search for potential drugs in the future.
---
9.11.2023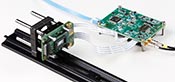 Leading edge semiconductor research on 200/300 mm wafers in the heart of Silicon Saxony and Europe
Modern electronics developments require state-of-the-art technologies and manufacturing processes, which are a financial challenge for many companies. Located in the heart of Silicon Saxony, Fraunhofer Institute for Photonic Microsystems IPMS offers both large chip manufacturers and smaller companies access to the latest research results and technologies on 200 and 300 mm silicon wafers.
---
9.11.2023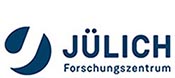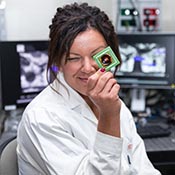 Development of a Retina-Like Biochip
An international team led by Jülich researcher Francesca Santoro has developed an intelligent biochip that imitates the retina of the eye. With such bioelectronics and others like it, the team hopes to correct malfunctions in the body and brain.
---
8.11.2023

RWE commissions 46-megawatt solar farm in Portugal
RWE's first solar plant in Portugal consists of 91,000 solar modules
- Green electricity to supply the equivalent of 42,000 Portuguese homes
---
27.10.2023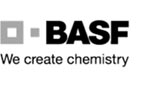 BASF partners with Oriental Yuhong for solar rooftop solutions in China
IOptimized formulations of Tinuvin® and Chimassorb® to improve TPOmembranes used in rooftop solar systems -
- Enhanced TPO membranes to meet newly updated national standards
---
23.10.2023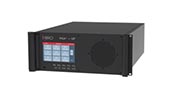 Bruker Announces Majority Investment in MIRO Analytical AG, an Innovator in Compact, Highest-Precision QCL-Based Multi-Gas Analyzers (MGA)
MIRO MGA systems enable fast, simultaneous trace gas analysis for Greenhouse Gases (GHGs) and pollutants for atmospheric and climate research, and industrial gas monitoring
---
19.10.2023


BARTEC and Extronics agree on acquisition
"The acquisition of Extronics is the consequent next step for BARTEC to evolve into the world's leading provider of digital infrastructure and equipment for hazardous
areas. The combined portfolio will now be the most comprehensive in the market and allows our customers to implement industrial IIoT networks and mobile devices
---
23.9.2023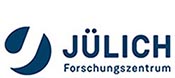 Jülich expertise for new agri-photovoltaic plant in the Rhenish mining area
RWE started construction of the agrivoltaics (Agri-PV) plant for generating solar power while simultaneously using the land for agricultural and horticultural purposes on about seven hectares of recultivated land at the edge of the Garzweiler opencast lignite mine
---
28.8.2023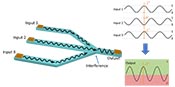 Using magnetic effects in electrons for a hundredfold
reduction in the power consumption of future chips
Laptops, smartphones, even smart watches: In our digital world, we expect more and more functions to be taken over by devices that are getting smaller and smaller, but also hungrier and hungrier for energy. New insights from research suggest that it can help reduce the size and energy consumption of electronic devices by a massive margin, if spinwave technologies are used in microchips
---
26.8.2023


RWE builds further solar-storage plant in opencast
mineu
Construction of a photovoltaics plant with integrated battery storage system has commenced at the Hambach lignite opencast mine, where RWE will install some 22,000 solar modules, enough to supply more than 3,100 households with green electricity.
26.11.2023
SICK Solution Hackathon 2023: A wealth of ideas for the world of tomorrow
107 young tech talents, 23 teams, 48 hours and countless cups of coffee: from October 24 to 26, 2023, the SICK Solution Hackathon brought the ingenuity of students and start-ups from around the globe together with leading software and technology. The result: in just a short time, a host of creative technological solutions that could make our lives simpler, more sustainable or more mobile. For a third consecutive year, SICK hosted its Solution Hackathon, this time with the support of ten corporate partners, including Bosch, ABB, NTT DATA and Ericsson.
---
22.11.2023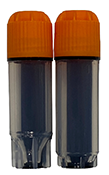 Automation Optimised Maximum Sample Recovery Tube
Featuring a novel design,
the new tri-coded 1.6ml Maximum Recovery tube from Azenta Life Sciences is ideally suited for automated workflows using liquid handling, where more sample can be retrieved due to the unique shaped bottom
---
22.11.2023


Building blocks for flow chemistry
Uniqsis has developed an extensive range of affordable 'building block' modules to which you can simply add your own pumps to create a
flow chemistry system.
.
---
21.11.2023


Smart solvent recycler improves sustainability
Not only does SmartSaver improve the sustainability of your lab, but it also quickly pays for itself through enabling you to recycle almost all the solvent used by your isocratic HPLC system.
---
20.11.2023
Cost effective customizable ELISA Assay Kits
With over 500 ELISA kits
to choose from, the new range covers a wide variety of biological processes, targets, and sample types. Reagents such as matched antibody pairs and a micro-ELISA pre-plate have been carefully screened and validated to save you time and money.
---
7.11.2023

Real-time monitoring of nanolitre fluid flows
At the heart of the Biotech Micro Flow Meter is a high-resolution thermal flow sensor that is extremely accurate and sensitive. The Micro Flow Meter is compatible with almost any solvent and being non-invasive guarantees the unperturbed operation of your whole fluidic system.
---
1.11.2023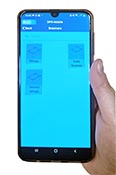 Remote sample management unchains scientists from their lab bench
Using high-speed, web-based communications protocols - DP5 Networkrack decoding software from Ziath can be run from a laptop, desktop, phone, or any other network connected device
---
31.10.2023

Modelling enables breakthroughs in Neuromuscular disease research
AMSBIO has published a case study that describes how a team of scientists, led by Dr. Roger Kamm from the Massachusetts Institute of Technology (MIT), has developed a protocol for the fabrication of a 3D microfluidic neuromuscular platform that can be used to model Motor Neuron Diseases (MND's
---
27.10.2023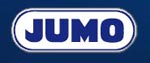 From 14. til 16. November exhibition SPS in Nuremberg
Your leading solution provider for industrial sensor and automation technology
Experience our complete solutions at the SPS!
JUMO brewing plant and anniversary beer
Innovative sensor technologies and modern complete systems enable us to constantly drive automation forward as a system and solution provider. Our brewing plant, which was especially implemented for the company's anniversary, illustrates how process effectiveness can be significantly increased through the perfect coordination of JUMO components. Thanks to integrated SPE sensor technology, the transmission of data and control signals is faster and more reliable. One of the results here is an exceptionally delicious anniversary beer. By the way, you can taste our "barley juice" at the JUMO booths.
---
23.10.2023


Catalytic flow chemistry system
The FlowLab Column™ from Uniqsis is an affordable flow chemistry system designed specifically for high temperature and pressure catalysis applications.
---
22.10.2023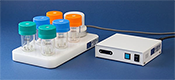 Scalable production of iPS spheroid culture
The new ABLE 3D Magnetic Stir and Disposable Bioreactor System from AMSBIO provides cost-effective, lab-scale production of induced pluripotent stem (iPS) cell spheroid culture.
---
20.10.2023


Non-invasive device for monitoring ultra-low fluid flows
Optimized to operate over the 100nl to 80 µL/minute flow range, with an unmatched high resolution of 1nl / minute, the Micro Flow Meter is the perfect tool for monitoring the consistency of UHPLC, LC/MS, high precision flow cytometry and micro- / nanoscale fluidics applications.