10.5.2022


Titan Enterprises Explains Possible Reasons for Flowmeter Failure During Installation
Titan Enterprises Ltd, who has been designing and manufacturing flowmeters for over 40 years, explains some of the reasons why these sensors might fail and what can be done to prevent damage that can lead to costly repairs and process downtime
---
21.4.2022



A new generation of in-line total cell density measurement in bioprocesses
Unlike the conventional measurement method of total cell density, where only the transmitted light is measured, Hamilton has taken the measurement technology to the next level and combined the advantages of transmission and reflection measurement.
---
20.4.2022


Measuring Mass Flow from Peristaltic Pumps
Fowmeter can be used to determine average flow rate as well as peak values of pulsation, thereby enabling selection of the most appropriate setting for any peristaltic pump application
---
14.4.2022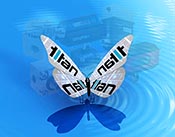 Ahead of the Curve: Titan Enterprises Celebrates Over 40 Years of Innovation
Optimised liquid flow metering solutions for more than 40 years. Supplying a diverse range of industries, Titan's design and engineering expertise is fundamental to the company's success
---
20.3.2022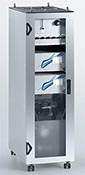 Continuous multi-gas measurement with LaserCEM®
It operates autonomously, online-based, reliably pre-calibrated and scores with a particularly high measurement stability and high sensitivity: the innovative LaserCEM® analyzer. It is based on infrared lasers, certified by TÜV and MCERTS according to EN 15267 (commonly named QAL1) and used in many industries worldwide.
---
16.3.2022


Continuous Monitoring of HPLC Pump Performance
Flow rate is a critical parameter in HPLC systems, it determines retention time or volume and therefore has a major influence on reproducibility. The TESTA Analytical Liquid Chromatography Flowmeter has set a new standard for non-invasive measurement of flow rate in HPLC, GPC/SEC and Ion chromatography systems.
---
11.3.2022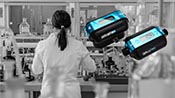 New Interface Software Gives Improved Functionality For Atrato Flowmeter
Titan's development of the Atrato's new interface software features some key functionality improvements: e.g. the ability to connect, configure and operate multiple Atrato flowmeters on a computer simultaneously whilst minimising CPU usage
---
7.3.2022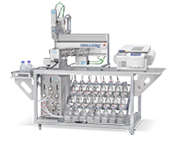 FREESTYLE XANA - Automated sample preparation
The topic of PFAS is as topical as ever. The latest EU Drinking Water Directive came into force on January 12, 2021 with amendments relating to PFAS. Also in the USA, the corresponding regulation US EPA 537.1 for PFAS in drinking water has recently been updated.
Certified with the
General Purpose Approval

.
The continuous online
measurement of pollutants in the air
with the GO-Mini-ATC enables the detection limit of 1 ppb for hydrocarbon measurement

read more





Handheld Power





To ensure that analysis results are available exactly where they are needed without detours, analyticon instruments has been selling innovative spectrometers for mobile on-site measurements and in-process chemical analyses for
20 years.





Process- & Environmental

Air, water, soil.  HORIBA contributes to global environmental safety with measurement technology that complies with environmental regulations throughout the world.






,Fast & Flexible Nanoparticle Size Analyser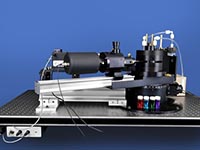 Testa Analytical Solutions e.K is now offering optimized versions of its proprietary Differential Refractive Index (DRI) Detector under OEM contract to enhance the performance of both HPLC and GPC/SEC systems.


As a third-generation family-owned company, we are financially independent and socially committed. We therefore think and act for the long term – in generations, not financial years



28.4.2022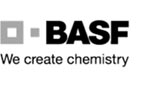 BASF and thyssenkrupp Uhde optimize STAR process® dehydrogenation technology and demonstrate significant sustainability benefits
Proprietary process to produce propylene from propane feedstocks, or isobutylene
from iso-butane feedstocks - Reduction of CO2 emissions and operating costs through lower energy consumption by up to 30%

---
24.4.2022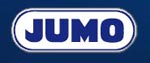 JUMO is the best measurement technology training company in Germany
In cooperation with the "Institut für Management- und Wirtschaftsforschung" (Institute for Management and Economic Research), the magazine FOCUS has investigated the quality of training in the 20,000 companies with the most employees in Germany
---
1.4.2022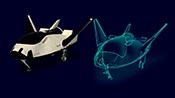 Sierra Space to revolutionize space exploration with Siemens' Xcelerator
Siemens' Xcelerator portfolio of software and services is central to Sierra Space's plans for its next-generation digital engineering platform.. Dream Chaser® spaceplane, the world's only winged commercial spaceplane is being designed, engineered, built and tested using Siemens' Xcelerator portfolio
---
18,3,2022

First hydrogen-powered train for Bavaria
Siemens Mobility delivers latest generation hydrogen train - Pilot tests from mid-2023 on Bayerische Regiobahn routes
---
12.3.2022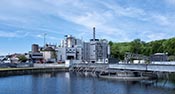 Pilot project RoKKa uses wastewater to produce fertiliser and raw materials
project RoKKa which is used to prove the viability of recovering raw materials from wastewater. This adds a crucial function to the scope of a conventional sewage treatment plant.
---
25.2.2022


One Million Galaxies Never Seen Before
For seven years, an international research team has collected radio signals from space. The data have now been published as a new sky map, which provides a unique picture of the wonders of our universe. For the first time, 4.4 million galaxies were made visible in the radio wave range
30.4.2022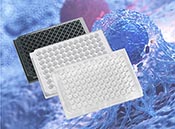 Specialist Assay Kits and Microplates for Cancer Research
Exhibited at the recent American Association for Cancer Research (AACR) meeting - considerable interest was shown in Porvair's growing range of Chromatrap® ChIP kits for epigenetics research
---
30.4.2022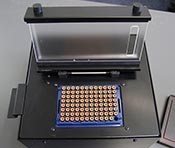 Cherry-picking and reformatting tubes from Acoustix racks 
The Ziath Mohawk tube selector to quickly and easily pick and reformat tubes from Azenta Life Sciences Acoustix racks used by the latest generation of Labcyte® Echo® acoustic liquid dispensers.
---
24.4.2022

17. PAT Colloquium from 19 – 21 September 2022 at Yokogawa Europe B.V. in Amersfoort, NL
In four sessions plus round-table discussions and poster exhibitions, we will learn from success stories and best practice examples, look at aspects of PAT from an international perspective, discuss PAT & data and see PAT innovations
---
13.4.2022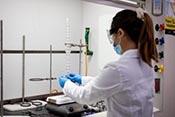 California University Lab Moves to Reduce Water Usage
Due to ongoing water shortages,
California water officials recently had no alternative but to impose new drought rules throughout the state to discourage wasteful water practices
---
29.3.2022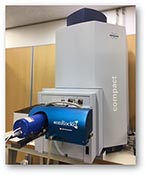 Comparison of Mass Spectrometry Sample Preparation Methods
Comparison using
Evolved Gas Analysis (EGA) and Thermal Desorption (DART) sample preparation methods for Mass Spectrometry analysis of Nylon 6,6
---
17.3.2022


Parallel Photoreactor Offers Easy Interchangeable Wavelength Excitation
The LightSyn Illumin8
allows chemists to run up to 8 photochemical reactions in parallel using low-cost 8 mL tubes. Compact in size, this affordable yet high performance photoreactor offers up to eight interchangeable modules of eight UV or coloured LEDs with safety interlocks to ensure light-tight photochemical reactions