When it comes to hygiene and customer health there are no compromises. With high performance and user comfort,the HC103 moisture analyzer was the perfect solution for Saponia, a large European cleaning and detergent manufacturer that sought to achieve perfect concentrations in its detergent products
Saponia, a Croatian-based enterprise
founded in 1894 is widely known for its quality products. However, to address ever-changing market challenges, Saponia sought to optimize how it ensures its ingredient concentrations by reviewing its moisture analysis procedures.sture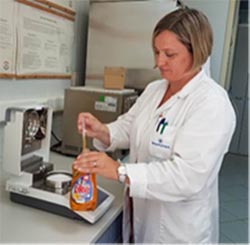 content of end-products as well as intermediates at every stage of production is critical for the quality of fabric softener and powdered or liquid laundry detergent. It helps to ensure, for example, that a powder will not melt into a cream in storage.
Saponia measures moisture content
between eight and 20 times per shift, five days a week. With numerous operators carrying out measurements, ease of use for their moisture analyzer is a must. Complications can cause shipping delays.
The company sought a solution that would:
Improve production flow

Simplify analysis

Grow production capacity, and

Speed up the release of finished goods
The solution was an HC103 moisture halogen analyzer
With expert support from METTLER TOLEDO, the instrument delivered excellent reproducibility and rapid measurements. Rework has been minimized and additional checks are seldom required, saving a significant amount of production and lab time. Moreover, Saponia is confident that the HC103's robust components will enhance the instrument's life expectancy in its tough industrial environment.
The HC103 can determine very low moisture content, in the range of just 1-2 percent, while offering excellent repeatability and security. In addition, production managers appreciate the easier, more reliable measurement selection process afforded by clearly defined method shortcuts.
Click here to learn more about moisture determination with the HC103 halogen moisture analyzer. Or, discover more about accurate measurements with your halogen moisture analyzer using our moisture analysis guide.