20.11.2023
Cost effective customizable ELISA Assay Kits
With over 500 ELISA kits
to choose from, the new range covers a wide variety of biological processes, targets, and sample types. Reagents such as matched antibody pairs and a micro-ELISA pre-plate have been carefully screened and validated to save you time and money
31.10.2023

Modelling enables breakthroughs in Neuromuscular disease research
AMSBIO has published a case study that describes how a team of scientists, led by Dr. Roger Kamm from the Massachusetts Institute of Technology (MIT), has developed a protocol for the fabrication of a 3D microfluidic neuromuscular platform that can be used to model Motor Neuron Diseases (MND's
22.10.2023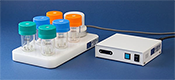 Scalable production of iPS spheroid culture
The new ABLE 3D Magnetic Stir and Disposable Bioreactor System from AMSBIO provides cost-effective, lab-scale production of induced pluripotent stem (iPS) cell spheroid culture.
8.10.2023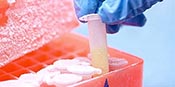 Optimizing Smooth Muscle Cell Cryopreservation for Cardiovascular Research
Central to understanding
the vascular remodelling that underlies cardiovascular diseases is the ability to perform reliable single-cell analysis of vSMCs. Large-scale solutions for single cell analysis and the tracking of cell fate using microarray technologies are well established
18.9.2023
Custom monoclonal antibody reveals promising HER2+ breast cancer target
Characterized by the overexpression of the Human Epidermal growth factor Receptor 2 (HER2) - HER2+ breast cancer is a highly aggressive disease subtype. While HER2-targeted treatments have improved patient outcomes for this form of cancer, acquired and inherent resistance to these treatment remains a challenge, prompting investigations into alternative therapeutic targets.
16.8.2023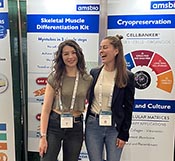 AMSBIO helps two young scientists to attend ISSCR 2023.
AMSBIO, a provider of cutting-edge products and services for accelerating stem cell research, has sponsored two aspiring life scientists to attend and present posters at the recent ISSCR 2023 conference in Boston, USA. Whilst the original award was for one researcher, AMSBIO doubled the fund and awarded two grants based on the high quality of the entries.
Highly sensitive and precise in vivo luminescence imaging
This cutting-edge Nano-Lantern lentivirus technology, which consists of an enhanced Renilla-Luciferase connected to an Orange Fluorescent protein (OFP), represents a significant improvement over previous methods and is poised to revolutionize many in vivo imaging applications - August 2023
Exploring Neurodegenerative Diseases in Microgravit
The aim of the ADDONISS (Ageing and Degenerative Diseases of Neurons on the ISS) project is to conduct research on neuronal cell cultures in the microgravity environment of the International Space Station (ISS).
Advancing Clinical Trials with iPSC-Derived Liver Organoids
The primary objective of Dr. Okamoto's research program at the Yokohama City University Graduate School's Department of Regenerative Medicine was to achieve large-scale, stable production of clinical-grade liver organoids. These organoids have the potential to revolutionize treatment for liver diseases and could be administered to patients with liver diseases as a therapeutic treatment. - June 2023
AAV-mediated gene delivery.
Drawing upon years of experience AMSBIO have developed a robust AAV Production Service providing researchers with access to the highest quality recombinant AAV vectors that can efficiently transfect multiple cell types, including dividing and non-dividing cells - June 2023
Innovative, fully defined hydrogel sets new benchmark in 3D Cell Culture..
MatriMix overcomes the limitations of current 3D substrates, enabling cutting-edge applications such as organoid formation using adult patient-derived cells and iPSC culture. MatriMix also demonstrates exceptional performance in in vivo animal PDX models - May 2023
High titer CAR lentivirus
AMSBIO has introduced a new range of high-titer Chimeric Antigen Receptor (CAR) lentivirus that provide high transduction efficiency with long-term, stable expression in resting and actively dividing cells) -May 2023
Skeletal Muscle Differentiation kit now with control myoblasts
The Skeletal Muscle Differentiation kit from AMSBIO provides a unique protocol to differentiate human pluripotent stem cells to skeletal muscle with high yields and without cell sorting or genetic manipulation - April 2023
Going Green in the Lab: Sustainable life science products. .
Laboratories are known to consume a significant amount of energy and produce a considerable amount of waste. However, with the increasing awareness of the importance of sustainability, many life sciences labs are taking steps towards prioritizing sustainable products and practices -
April 2023
Skeletal Muscle Differentiation kit now with control myoblasts
The Skeletal Muscle Differentiation kit from AMSBIO provides a unique protocol to differentiate human pluripotent stem cells to skeletal muscle with high yields and without cell sorting or genetic manipulation - April 2023
Leading Scientists Discuss 3D Organoid Culture Research
AMSBIO has interviewed two extraordinary women in the 3D Cell Culture and Organoid field; Dr Hynda Kleinman, one of the co-inventors of Matrigel, and Dr Meritxell Huch, a director at the Max Planck Institute of Molecular Cell Biology and Genetics (MPI-CBG) - March 2023
Extragel: a new highly effective growth matrix
AMSBIO is pleased to announce the launch of Extragel, a like-for-like replacement for Matrigel™, GeltrexTM and CultrexTM Basement Membrane Extract (BME).- March 2023
Leading Scientists Discuss 3D Organoid Culture Research
AMSBIO has interviewed two extraordinary women in the 3D Cell Culture and Organoid field; Dr Hynda Kleinman, one of the co-inventors of Matrigel, and Dr Meritxell Huch, a director at the Max Planck Institute of Molecular Cell Biology and Genetics (MPI-CBG) - March 2023
Cutting edge technology for vascularized kidney organoidse
Professor Morizane research group uses StemFit® - a feeder-free, chemically defined culture medium for embryonic (ES) and induced pluripotent stem cells (iPSC) which are without human or animal-derived components - March 2023
Quick & easy kit for isolating gDNA from FFPE tissuee
The new MagSi-DNA FFPE kit from AMSBIO enables quick and easy isolation of genomic DNA (gDNA) from mammalian formalin-fixed paraffin-embedded (FFPE) tissue or cell samples - February 2023
Cryopreserved primary human cells
Every batch of cells is validated for cell viability, morphology, plating efficiency and cell marker data. Cells are cultured for 5-7 days before being released and delivered with donor demographics and serology data demonstrating viral and mycoplasma negative statuse - January 2023
Investigating Glycans – shedding new light on the 'dark matter' of biology
The Faculty of Biological Sciences at the University of Leeds (UK) is using their specialty reagents for the production, visualization, and analysis of glycans and to investigate their interactions which are instrumental to the advance of glycobiology - January 2023
Fast, Cost-Effective Products for Extracellular Vesicle Isolation
Traditionally ultracentrifugation has been the favored method for EV isolation or separation. Though it is still widely used, ultracentrifugation not only tends to alter the vesicle shape and functionality but is time-consuming and requires expensive equipment. - December 2022
Cell-permeable small molecules for regenerative medicine and cancer research
Small molecules are cell-permeable organic compounds with low molecular weights, which are chemically produced, in contrast to larger molecules such as proteins which are often produced via biological means - December 2022
Organoid Cryopreservation Handbook
The handbook brings together published paper citations, quotes and data from leading international research groups who are using the CELLBANKER® range of products to cryopreserve their organoids simply and safely. In addition - November 2022
Fast creation of custom cell lines
Drawing upon proprietary technology - AMSBIO can deliver the high-quality cell lines you need with a single customer-defined knock-in in just 25% of the time required with conventional approaches - November 2022
Virus-based tools for Cell Engineering
AMSBIO has added a new range of Vesicular Stomatitis Virus (VSV) to its suite of virus-based tools for cell engineering and the study of viral infection -
October 2022
Highly characterized, high purity exosome standards
Life science specialists – AMSBIO offer an extensive range of highly characterized, high purity exosomes for use as control standards in applications including marker assessment - October 2022
Room Temperature RNA Stabilization for Tissue Samples
AMSBIO announce RNAdvantage – the first product in a new range of stabilization solutions that provide robust protection for your RNA samples at ambient temperature. Designed to protect and preserve RNA from most tissues, cultured cells, bacteria, and yeast for up to 14-days, RNAdvantage eliminates the traditional costs of flash freezing samples dry-ice shipping and freezer storage - October 2022
GMP-compliant products and services to streamline your clinical translation
Life science and healthcare specialists – AMSBIO has launched a new set of dedicated webpages and content downloads detailing their extensive range of high quality GMP-compliant products and services.- September 2022
Developing an iPS Cell Therapy for Genetic Skin Disease
This rare genetic disease causes chronic and incredibly painful skin wounds that often lead to an aggressive form of skin cancer and eventual death. -
September 2022
Clinical-grade recombinant proteins for cell therapy
Continued expansion of cell therapy applications across healthcare and the life sciences is driving a rapidly increasing need for clinically applicable ancillary materials. A key requirement is for recombinant proteins, such as growth factors and cytokines - May 2022
Isolation of High Purity Exosomes
Exosomes are small endosome derived lipid nanoparticles actively secreted by exocytosis in most living cells. Release of exosomes occurs either constitutively or upon induction, under both normal and pathological conditions, in a dynamic, regulated and functionally relevant manner May 2022
AMSBIO Launch New Pathogens Detection Kits
Sample pooling is useful in times of high testing and low infection prevalence where traditional sample screening methods are not cost-effective. This will be particularly effective in school and healthcare settings - February 2022
Obesity and Mitochondria Transfer: is Heparan Sulfate the Way In?
The 10E4 Heparan Sulfate (HS) antibody in pioneering obesity research to quantify the role of HS in the process of intercellular mitochondria transfer to macrophages - March 2022
AMSBIO Launch New Pathogens Detection Kits
Sample pooling is useful in times of high testing and low infection prevalence where traditional sample screening methods are not cost-effective. This will be particularly effective in school and healthcare settings - February 2022
COVID-19 Omicron Variant Research Tools
Two monoclonal antibodies that recognize the Spike RBD (B.1.1.529, Omicron Variant) protein and neutralizes its interaction with ACE2 - Research has shown that ACE2 mediates COVID-19 infection through direct binding of the SARS-CoV-2 Spike protein - February 2022
AMSBIO Expands EU Operations
On December 30th, 2021, AMSBIO opened a new office in Alkmaar, Netherlands. The new AMSBIO Europe BV office is already providing EU customers rapid, easy access to the company's extensive range of top-quality products and consumables. - February 2022
New iPSC Model for COVID-19
AMSBIO invite the global research community to the 2021 annual meeting of the ISSCR, the leading professional organization of stem cell scientists, to discover how iPSCs and organoids can be used in COVID-19 drug discovery - July 2021
Developing a Cell Therapy for Parkinson's Disease
Its main features include motor symptoms such as bradykinesia, rigidity, resting tremor, and postural instability, though non-motor symptoms are often also present amongst other things - May 2021
GMP-Ready Helper Plasmids for AAV Production
AMSBIO introduces new pHelperKan plasmid DNA optimized for Adeno-Associated Virus (AAV) manufacturing- March 2021
Breast Cancer Cell Line Array
Using cell line controls ignificantly lower the costs of immunohistochemical (IHC) examinations and fluorescence in situ hybridization (FISH) while enabling high levels of standardization and reliabilityUntersuchung - March 2021

Mutant Spike Proteins & Antigens for SARS-CoV-2 Variant Research
Most notably in the UK, a new variant strain of SARS-CoV-2 (known as B.1.1.7) emerged with an unusually large number of mutations. This variant has since been detected in numerous countries around the world, including the United States and Canada - February 2021

Cell Free Nucleic Acid Extraction
magnetic bead-based DNA extraction kit designed to isolate circulating cell free DNA (cfDNA) from human plasma or serum samples - January 2021

SARS-CoV-2 Antibodies and Antigens for Diagnostic Kit Development
AMSBIO has further expanded its product range to help in the fight against COVID-19 with the introduction of a new range of SARS-CoV-2 antibodies and antigens to aid development of new immunoassay diagnostic kits.- Oktober 2020

Sterilization Systems for Small to Large Laboratories
AMSBIO offer a trio of sterilization systems suitable for a range of applications from sterilizing small laboratory instruments to sterilizing large research facilities. - May 2020

Investigating Cancer Resistance of the Naked Mole-Rat - The research groups of Dr Daniel Frankel at the University of Newcastle and Dr Ewan St John Smith at the University of Cambridge undertook to explore the structural and soft matter properties of this species-specific variant - Juli 2019
Therapeutic efficacy of microtube-embedded Chondroitinase ABC - Embedded Chondroitinase ABC Shows Promise for Spinal Injury Treatment -
January 2019
Precise Control of Gene Expression - Our kits are custom-designed for your project - September 2018
Exosome Isolation Manufacturing & Characterization - an exosome isolation, manufacturing and characterization service - August 2018
AMSBIO - Powerful CRISPR/Cas9 Genome Editing Kits - tailor-made for specific projects - July 2018
AMSBIO Launch New Screening Company - OncoScreen service - the first application platform is targeted at improving anticancer drug treatment-
July 2018