16.11.2023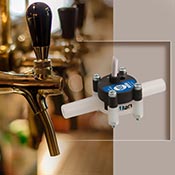 Titan Enterprises' NSF-Approved Flow Meter Best Value for Beverage Industry
Titan's Beverage flowmeters are widely used to monitor the accurate delivery of beer, cider and spirits in distilleries, to automated batching and dispense systems, bar taps in mobile bars and your local pub.
16.10.2023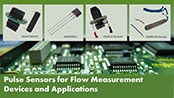 Titan Enterprises Goes 'Back to Basics' with Flow Meter Sensors
"Flow meters have developed into many forms over the years, from mechanical devices – such as a turbine or rotating gear - which rely on measurement of a rotational component, to devices that use ultrasound and other advanced technologies. These meters generally use a sensor to relay the flow measurements to a reading device. Nearly all types of flowmeters, from ultrasonic to turbines, are offered with pulse output flow signals
19.9.2023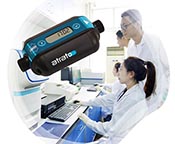 Titan Enterprises' Most Versatile Ultrasonic Flowmeter now with ASCII Flow Streaming

Atrato® line of ultrasonic inline flowmeters now has ASCII flow streaming capability via USB and is reverse flow enabled, enhancing its capacity to be optimised for the user's application, in addition to its datalogging and diagnostic features.

11.8.2023


Materials, Product Life, Performance – What Essential Parameters Drive Your Flow Meter Choice?
Titan Enterprises, a leading UK design and manufacturer of liquid flow
measurement sensors, presents a comparison of their flowmeter types that will
influence the suitability for your process application.
Flow Meter Reliability Critical for On-line Analysers Servicing the Oil and Gas Industry
Titan's Oval Gear flow meters are integral components within Icon Scientific's Physical Property On-Line Analysers, seen here within the cell enclosure of Icon's cloud point analyser - July 2023
Titan Enterprises Releases Second Generation Pulsite® Linkt
With the help of the Pulsite® Link, users may convert common pulse output flow metres, such Titan's precision turbine flowmeters and positive displacement flowmeters, to scaled and linearised analogue and NPN/PNP outputs - June 2023
Flow Measurement of High Viscosity Liquids
High viscosity liquids, such as fuels, thick oils, bitumen, resin and tar, require devices that are precision engineered to provide highly accurate flow measurement. The teeth in an oval gear meter are used to drive the gear and seal the central path, with the differential force being developed by the shape of the ovals rather than the gear teeth on the lobe - May 2023
3-D Printing Expedites Titan Enterprises' R&D in Flow Meter Technology
"3D printing technology is fundamentally changing the way we design, prototype and test flowmeter devices within our R&D, particularly when developing specialist designs for OEM applications," says Neil Hannay, Senior R&D Engineer with Titan Enterprises - April 2023
Titan Enterprises' NSF-Approved 800-Series Turbine Flow Meters Provide Low- Cost Solution for Pharmaceutical and Medical Industry
Precision flow measurement is a critical tool for the Pharmaceutical and Medical industries, where processes require the precise control of liquid flow rates. Titan's NSF-approved 800-series turbine flow meters are ideally suited for applications where both food-grade hygiene and precision flow measurement are required, such as those seen in dispensing and accurate batch delivery systems for ingestible pharmaceutical products and additives.
- March 2023
Titan Enterprises Expands Patents for its Ultrasonic Flowmeter Technology
Titan's ultrasonic flow sensors use high frequency sound waves to measure flow using the time-of-flight principle within the liquid in a small pipe. The ultrasound is injected with the direction of flow into the liquid by one piezoelectric crystal (the sensor) and is received by a second piezoelectric crystal further down the tube - February 2023

Flow Sensing Challenges in Food & Beverage Production
Die Flow measurement is a critical tool for food and beverage manufacturers, the industry having a diverse range of processes that require the precise control of liquid flow rates - January 2023
Fast Tracking Flowmeter Design for the Measurement of Fuel Consumption
Metering fuel consumption can be achieved using positive displacement flow measuring devices such as Oval Gear flowmeters. However, differing results in flow meter accuracy and error rates can be seen depending on a number of factors - December 2022
High Pressure Flow Meters for the Offshore Oil and Gas Industry
Flow measurement plays a fundamental role in upstream, midstream, and downstream segments of the Oil and Gas industry. Applications such as high-pressure additive injection, require highly accurate and chemically resistant flow metering sensors -
November 2022
Measuring Changing Flow Rates – the Challenges of Pulsating Flow
Pulsating flow systems can be seen in process applications where the velocity profile of the flow undergoes dramatic cycling changes as compared to normal steady flow conditions. Such conditions are common in blood flow monitoring, medical, and chemical dosing systems where peristaltic or diaphragm pumps are used - October 2022
Titan Enterprises Goes Live with New Website to Better Serve the Flowmeter Market
Titan Enterprises is inviting visitors to explore their dynamic new website. Designed for the evolving scientific, engineering and measurement marketplace, Titan's new enriched content-led website gives the visitor a step-up in user experience - September 2022
Titan Enterprises Explains Possible Reasons for Flowmeter Failure During Installation
Titan Enterprises Ltd, who has been designing and manufacturing flowmeters for over 40 years, explains some of the reasons why these sensors might fail and what can be done to prevent damage that can lead to costly repairs and process downtime - May 2022
Ahead of the Curve: Titan Enterprises Celebrates Over 40 Years of Innovation
Optimised liquid flow metering solutions for more than 40 years. Supplying a diverse range of industries, Titan's design and engineering expertise is fundamental to the company's success - April 2022
New Interface Software Gives Improved Functionality For Atrato Flowmeter
Titan's development of the Atrato's new interface software features some key functionality improvements: e.g. the ability to connect, configure and operate multiple Atrato flowmeters on a computer simultaneously whilst minimising CPU usage - March 2022
UK Manufacturer Extends its Protection of Stored Bulk Crops Across the Globe
Stored Crop reports a significant shift in their business model and growth. Agrochemical specialists, Stored Crop use a modified application system to extend the life of crops before and after harvest and maintain healthy storage environments. - February 2022
Flowmeter Solutions for High-Speed Batch Dosing
High-speed batch dosing in filling lines, typically seen within the food, beverage and pharmaceutical industries, is a modern process that increases production throughput and efficiency, as well as saving on cleaning costs associated with traditional batching processes.- January 2022
Optimum Flow Meter Accuracy Critical to Biofuel Production
"Accuracy of measurement in our chemical processes is critical and Titan's range of oval gear flowmeters provide just that - November 2021
Chemotherapy Patients Benefit from Optimum Coolant Flow During Treatment


Paxman's innovative liquid-based cooling system utilises Titan's mini turbine flowmeters to monitor the rate of coolant flow around the patented cooling cap during chemotherapy - October 2021
Ultrasonic Flow Meter Ideal for Ultra-Pure Water Applications
Designed primarily for ultra-pure water dispensing applications requiring a high degree of cleanliness, clean bore flow measurement devices such as Titan Enterprises' Metraflow® ultrasonic flowmete, offer the ideal solution - September 2021
Titan Explains the Factors that Determine Flow Meter Performance
the factors involved in determining the overall performance of pulse output turbine flow meters and how each factor influences the accuracy of flow measurement - August 2021
Titan Bridges Troubled Waters For Flow Meter Installation


Titan Enterprises have released video tutorials illustrating correct wiring of their pulse precision flow measurement devices to support customers with the installation of flow meters into their applications July 2021
Flow Measurement Devices Integral to Smart Water Metering Systems
Global manufacturer of water-use appliances, Miele states: "Water intake is measured and controlled extremely precisely using a precision flowmeter. This helps to save water, making it extremely economical and environmentally friendly". - July 2021
Refrigerant Flow Sensors Help Keep Data Storage Cool
Reliable flow monitoring of refrigerant liquids is a vital requirement for cooling equipment used in data centre facilities - May 2021
Upturn in Demand for High Performance Mini Turbine Flowmeters
Small turbine flow meters are adaptable liquid flow devices that Titan has successfully employed in batching processes and dispensing applications particularly within the food and beverage, chemical and laboratory sectors - May 2021
Mitigating the Effects of Pulsating Flow in Flow Measuremen
Using advanced electronics, Titan's Atrato® and Metraflow® ranges of ultrasonic flowmeters are able to resolve the ultrasonic signals to about 50 picoseconds. With downstream signal processing, Titan's ultrasonic flowmeters are able to accurately measure pulsating fluid flow that is less than 10Hz -March 2021
High Pressure Flowmeter for Offshore Oil and Gas Industry
... that require a highly accurate and chemically resistant flow measurement device, such as metering high pressure additive injection. - February 2021
Accurate Flow Measurement of Low Viscosity Fluids
For smaller diameter pipe applications Titan Enterprise turbine flowmeters employ a design where the flow of fluid is directed at the turbine that is mounted on robust low friction sapphire bearings - February 2021
Accurate Flow Measurement Helps Reduce Drug Production Costs
Drug production processes typically require devices able to cope with low flow rates and constructed from ultra-pure materials so as to maintain hygienic, sterile and sanitary conditions.- January 2021
Digital Rate & Total Indicator
Requiring no external power, the compact Pulsite Solo has multiple mounting possibilities and can be configured to any flow element. Programming on the Pulsite Solo is quick and simple using just the two front panel keys and following the prompts on the LCD display - December 2020
Dispensing of Ethanol Cooking Fuel


Titan Enterprises' flow meter technology is playing a vital role in supporting KOKO Networks (Nairobi, Kenya) deliver cheap, safe and clean cooking fuel into African homes.- November 2020
In-line Flow Meters for Pure Water Dispensing
This type of flow device can fulfil critical roles in measuring the rate of flow and volume of pure water in areas including laboratory water purification dispensers, semiconductor cleaning processes and in a growing number of pharmaceutical applications. In all these applications, contamination of the pure water must be avoided - November 2020
Flowmeter for Applications Requiring a High Degree of Cleanliness


A

n ideal solution for flow monitoring applications requiring a high degree of cleanliness such as are found in the pharmaceutical, medical, semiconductor and ultra-pure water markets.- September 2020
Precise Flow Measurement for the Food & Beverage Sector


For these and other flow measurement operations, Titan offers a range of flow meters incorporating NSF certification for use within food and beverage production facilities

- August 2020
Application Optimised Flow Meters


Ooptimised flow meter to match your exact application requirements and not compromise achievable results with a less than ideal sensor - August 2020
Flow Monitoring in Explosive Atmosphere
For its Oval Gear flow meters to ensure safe operation in potentially explosive atmospheres such as are often encountered in the petrochemical industry, Titan offer two options - July 2020
Filter Effectiveness Testing Using Flowmeters
Titan Enterprises reports on how its flowmeters are being used by filter manufacturers to test the effectiveness of their product - April 2020
High Pressure Hastelloy C Flowmeters for Hazardous Areas
Compact OG flowmeters are perfect for measuring flow at pressures up to 700 Bar and 150°C. Designed to be IP-67 / NEMA 4 compliant, Titan's Hastelloy C OG Series high pressure flowmeters are available in standard and customer specified configurations. - March 2020
Metering Flow in Larger Diameter Pipes - The durable PVDF turbine rotates freely on a 316 stainless steel shaft and has special aerofoil shaped blades to extend the dynamic range of the meter. Specially contoured housing further improves the meter linearity particularly at lower fluid velocities -
February 2020
Turbine Flowmeter Designed for Battery Powered or Portable Equipment - At the heart of the low power 800 series flowmeter is a precision turbine that rotates freely on robust sapphire bearings - February 2020
Flow Sensors for Medical Applications - A true inline non-invasive flowmeter technology without the contorted flow path and disadvantages of alternative ultrasonic flowmeter designs - January 2020
Optical Flow Sensors Monitor Cooling of the World's Most Sensitive Astronomical Camera - The camera, called HiPERCAM, can take over 1000 pictures every second simultaneously in five optical colours - December 2019
Ultrasonic Flowmeters Help Reduce Drug Production Costs - Inline flowmeters are used by drug manufacturers to streamline production and reduce costs - November 2019
Flow Measurement in F1 Racing Cars - Flow Measurement in F1 Racing Cars - October 2019
Accurate Flow Rate Measurement of Viscous Liquids - Unlike other flowmeters, measurement accuracy with oval gear devices actually improves as the liquid viscosity increases - September 2019
Easy-to-Clean Laboratory Flowmeter - Rugged, clean bore Polyether Ether Ketone (PEEK) and 316 Stainless Steel or glass construction makes the Atrato ultrasonic flowmeter ideal for lab experiments - September 2019
Beverage Flowmeters Ensure Consistent Drink Quality - Genaue, hochauflösende Messungen der Partikelgrößenverteilung von Nanometern bis zu Zehn Mikrometern ohne zeitaufwändige Kalibrierung oder Absorptionskorrektur durchführen - August 2019
Advanced Platform for Water Leak Reduction Management - To monitor customer water usage at an individual appliance level, offer the ability to detect leaks and pipe bursts - May 2019
Ultrasonic Flowmeter for Process Measurement & Monitoring - A compact flow meter designed to provide fast response time in processing plants -
March 2019
Low Flow Ultrasonic Flowmeters - The ultrasonic sound technology of Titan Enterprises gives unmatched performance when metering low flows -
Januar 2019
High Pressure Flowmeter Measures Liquid Refrigerants - Titan Enterprises reports on the development of a high-pressure turbine meter for measuring the flow of liquid refrigerants - November 2018